Even in darkness, light dawns for the upright. Psalm 112:4 NIV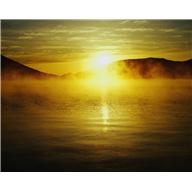 Our family planned to get up early and watch the sun rise over the iconic landscape of mesas and buttes in Monument Valley. The alarm clock buzzed at 5:00 am. We stumbled out of bed and onto the balcony of our hotel room to wait and see the dawn.
Before long the dark sky was airbrushed with hues of purple and blue, and a deep orange glow spread along the horizon. The imposing mitten-shaped rock outcrops stood grandly silhouetted against the display of colors. A pinhead of brilliant light on the skyline rose to become a dazzling sphere. We watched until our eyes could take no more. Bathed in light, the rusty browns and pale greens of the landscape became visible. A new day began.
God promises those who have faith in Him that their darkness will turn to light. This is not in the literal sense, although the coming of the dawn is a physical reminder that all forms of darkness will pass. Instead, when we believe in Jesus Christ, the spiritual darkness in which we once existed is dispelled because God's light enters our lives. We also receive assurance that we can trust God because, even when life is difficult and painful, relief will come either on this earth or in the life to come.
Sometimes our days can seem like a never-ending, dark night, filled with the distresses of a challenging situation, or a difficult relationship. No alarm clock alerts us when dawn is approaching. Yet during these times with no glimmer of respite, we need to hold on to the promise of God. Although we may doubt God's promise, the Word draws our attention to and emphasizes the surprising, extraordinary truth that deliverance will come.
When darkness fills your world, trust in God. Hold on to God's promise. He will bring light into your life.
(Photo courtesy of office.microsoft.com.)
---
---