Surely Your goodness and love will follow me all the days of my life, and I will dwell in the house of the Lord forever. Psalm 23:6 NIV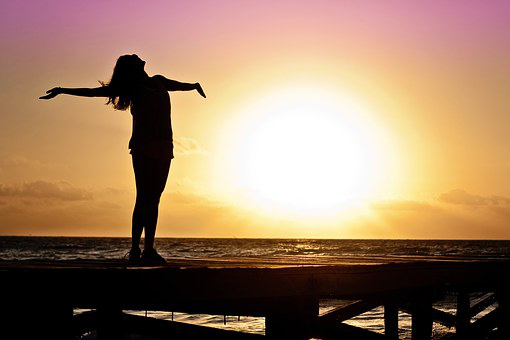 My eyes moved over white pages—words black and red—as I searched for comfort, peace, and mercy.
A bronze star with the word "blessed" hangs in my car. It started as a Christmas tree ornament, but I decided the single word written in gold was more important to see every day rather than just at Christmas.
It's difficult to feel blessed when I've been out of work for six months with no new job prospects on the horizon. I worry I can't pay back my family, the ones who loan me money to pay the bills.
The psalmist knew he was blessed, but I often need a physical reminder that although I might not feel blessed I am blessed. The world can easily drain my joy. Family arguments, work stress, and financial woes can confine the happiness I'm supposed to feel.
God wants what is best for me, but I don't think of myself as being blessed as often as I should. God wants me to prosper and live abundantly.
Yeshua (Jesus) never promised I would have material wealth or that my life would run on an even path. In fact, He said His children would be prosecuted and persecuted. We would experience trials and tribulations.
However, Yeshua did vow He would never leave or forsake His children. He will walk beside me through each moment of my life. Not only when everything is going right, but also when everything is going wrong—especially when everything is going wrong.
Nor did Yeshua ever promise me a pleasant life. But He did promise me eternal life. If I accept His gift of salvation, I will have forever to sit at His feet, sing to Him, and praise and worship Him. What greater future could I ever imagine?
Praise God from whom all blessings flow. No matter what circumstances surround you, you are blessed because you carry Yeshua, the Messiah, in your heart.
(Photo courtesy of pixabay.)
(For more devotions, visit Christian Devotions.)
---
---