"How can I," he said, "unless someone explains it to me?" So he invited Philip to come up and sit with him. Acts 8:31 NIV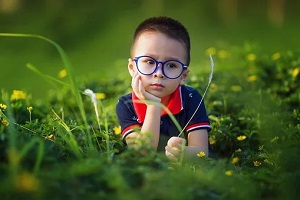 I turned on my computer, but something wasn't right.
As I sat at my computer to do research, I couldn't see the words clearly. My document was right in front of my face, but I might well have been blind. I had forgotten to put on my new glasses. They were especially created for me to see clearer while working on my personal computer.
I remembered the Bible story of the evangelist, Phillip, who led the Ethiopian eunuch to Jesus Christ. The eunuch could not clearly understand the Word of God, so the Spirit sent Phillip to help him understand.
I suddenly thought about my computer experience. The glasses that helped me see clearly to do my work were like the Holy Spirit was to Phillip. The Spirit reminded me of God's promise to direct my footsteps and teach me from His Word.
Because Jesus lives within me, His Word is alive and transforms me every time I open the Bible. The Holy Spirit also speaks to me every minute of each day. The Ethiopian chose to ask Phillip what God meant in the Scriptures. I, too, have a choice of listening to the Spirit or doing my own thing without wisdom from God.
If we look deeply enough, we'll learn lessons from God in all we experience. All we have to do is ask the Spirit to help us see what God is revealing through the Bible. God has answers and clarity for our concerns.
Ask God to guide and equip you through His Word so you can handle life's concerns.
(Photo courtesy of pixabay.)
(For more devotions, visit Christian Devotions.)
---
---