Surely goodness and mercy shall follow me all the days of my life: and I will dwell in the house of the Lord for ever. Psalm 23:6 KJV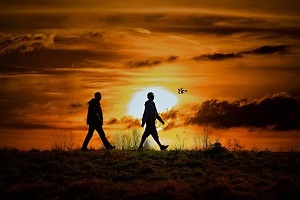 As a child growing up and going to Sunday school and vacation Bible school, I learned to recite Psalm 23.
In the intervening years, I've read it during happy and sad times. But one morning, the phrase "goodness and mercy" brought a question to mind: Are goodness and mercy still following me? I mean, what's good about a virus wreaking worldwide havoc? Plus, I'm in that senior age group which is more vulnerable, and I have an underlying health issue.
When I turn my head and look behind me, I call, "Goodness and Mercy, are you still there?" In peaceful times, I felt assured they were with me and had my back. Now that life is out of whack and the waters are turbulent, I wonder if I have faith that the duo still rides shotgun.
In the psalm, there are no qualifiers to the promise. The psalmist says they follow all the days of our lives.
I know goodness and mercy follow because they are two of the many attributes of God. In the rearview mirror of life, I've known they followed even when I could not see them. I saw them in God's provision after my husband passed away suddenly. Goodness and mercy accompanied all through those sad and trying days of intense grief and sorrow. I learned as I moved through the Valley of Death not to live in that valley but to keep moving. While doing their job, the two often had to come up close and push me through that valley. Many other experiences have also shown me they never leave in troubling times.
Today, I still face various crises. When I turn, I see my two friends behind me. They will always follow because God is with me for the duration of my journey on this earth.
Are goodness and mercy following you?
(Photo courtesy of pixabay.)
(For more devotions, visit Christian Devotions.)
---
---