Be alert and of sober mind. Your enemy the devil prowls around like a roaring lion looking for someone to devour. 1 Peter 5:8 NIV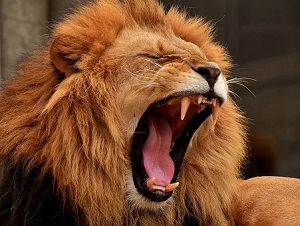 I frantically slapped my pockets. Nothing!
Before entering the grocery store, I took the credit card I planned to use out of my wallet so I wouldn't have to carry my wallet. I also picked up some trash from my car to throw away on the way in. I shopped and proceeded to the checkout. After my food was bagged, I reached into my pocket for my credit card—but came out with only lint. I realized I had tossed my credit card with the garbage from my car. I ran to the car for another credit card—feeling the weight of the angry scowls of the people in line. Then I ran back in and paid, praying the credit card was still in the garbage. Thankfully, it was.
The whole incident reminded me about how often we do things absentmindedly. Usually, it happens without great consequence. But what if we walk through life spiritually absentminded? Three times, Peter warned his readers to be sober-minded and alert. Peter wrote to Christians, but Satan is able to cause even them to fall into sin—and loves it when they do. That's why Peter's warning is so severe. By the time Peter wrote the letter, Christians were being thrown to the lions in the Roman colosseum. He wanted his readers to know that if they lived absentmindedly, Satan would do the same to their souls.
If we go through life unaware of Satan's schemes, the consequences can be eternal. But if we trust Jesus for our salvation, the Holy Spirit will give us the power to resist the Devil. Now is not the time for spiritual slumber. There is a spiritual battle raging for our souls. Satan does not rest. He's working to tempt us to ruin our lives through sin. It's one thing to absentmindedly throw away our credit card. It's another thing to absentmindedly allow Satan to have our souls.
Don't absentmindedly forget your faith in Christ.
(Photo courtesy of pixabay.)
(For more devotions, visit Christian Devotions.)
---
---