But God has surely listened and has heard my prayer. Psalms 66:19 NIV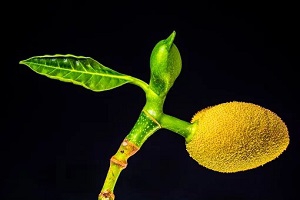 I met this spiky green fruit during a trip to Asia.
Bangladesh has a wet climate, paired with multiple growing seasons, which allows this small country to produce many unique foods—especially fruit. Jack fruit grows high in tropical trees and ripens in early summer. Its weight makes it dangerous for people and animals if it unexpectedly falls.
The fruit itself is protected by a tough outer shell. Inside are sweet yellow pods that grow around seeds. The seeds can be eaten in savory dishes like curry or dips, but the fruit is what most people think of when talking about jack fruit. During my visit, I was told some Westerners do not like the way jack fruit tastes. But from the first bite, I fell in love and have had a soft spot for it ever since.
One night, I prayed for fresh jack fruit. I almost laughed as I did. I was talking to the God of the universe about my craving for jack fruit—and He listened and cared. He didn't care because the jack fruit had value—although that week it had more value to me since it was part of a special dinner—but He cared because I matter, and He loves me.
Prayer is one of the many ways God allows us to experience His unfailing love for us. The Lord of all creation makes Himself available to His children. Through prayer, we give Him the opportunity to speak into our lives, and we have the privilege to seek and learn about Him.
God is ready and waiting to hear from you. Will you take Him up on His offer?
(Photo courtesy of pixabay.)
(For more devotions, visit Christian Devotions.)
---
---