We demolish arguments and every pretension that sets itself up against the knowledge of God, and we take captive every thought to make it obedient to Christ. 2 Corinthians 10:5 NIV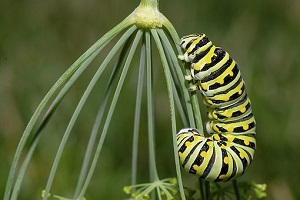 Confession time—I slept with a hairy caterpillar.
Lately, we've been in the business of getting rid of caterpillars—from the toy room, the walls, and the bedroom. We're cutting down branches and spraying repellant. We're not remaining helpless victims but are standing our ground for health.
My reckless behavior left me with rashes and welts that painfully itched for a week. In my sleep, I took care of this problem. I attacked myself, scratching welts open. I let the poisonous caterpillar cozy up in bed with me.
Before you empathize too much, we knew we had a caterpillar invasion. We knew how horrible the results were of touching a caterpillar. We just chose to let a small thing go. After all, hairy caterpillars are cute.
Ever feel that way in life? We let a small thing go. We let down our guard, thinking a habit, a secret, or a conversation isn't that bad. In fact, we might think it's kind of endearing. It is true we can live with a few gray areas, but unless we clean our house and stay firm, the caterpillars (and subsequent discomfort) will come.
At the same time, we demolish the arguments that fight against God's grace in our lives. We lead our thoughts and feelings, instead of being controlled by them. Getting rid of the caterpillars isn't as easy as just ignoring the trouble—just as taking every thought captive isn't that natural. But standing firm is the way to be healthy and even prevent unnecessary pain.
Will you join me in this journey of removing the things that harm you from your mind?
(Photo courtesy of pixabay.)
(For more devotions, visit Christian Devotions.)
---
---