Serve wholeheartedly, as if you were serving the Lord, not people, because you know that the Lord will reward each one for whatever good they do. Ephesians 6:7-9 NIV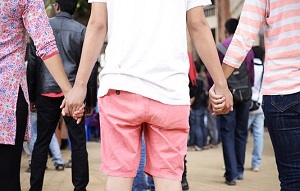 The elderly woman sat outside the grocery store, fretting and nearly in tears.
"Can I help you?" I asked
"No," she said through her sobs.
"What is the matter?"
"I called for a taxi to take me home, but I have been waiting for half an hour, and my ice-cream is melting. I only live across the street, but I can't cross."
"May I help you across?"
"I can't carry my groceries!"
"I can drive you there if you tell me where you live."
"You can't lift the groceries!"
"Let me try. My car is just a few steps away."
I picked up her two small bags of groceries and, after putting them into the trunk, helped her into the car. She lived in an apartment complex. I parked the car outside her unit, then retrieved the groceries from the trunk as she led the way to the door.
As I put the groceries on the counter inside the door, she said "Wait" and handed me some money.
"That's not necessary. It was my pleasure to help. Save it for the next cab ride."
I was on my lunch hour when all this happened. It was the day before Thanksgiving, and I planned to make a quick stop at the grocery store for few last-minute things. Silly me! I returned to the grocery store to gather my items, even though now my lunch hour was running out and the check-out lines were long.
I looked at my watch and the three people ahead with full carts. I turned suddenly as I felt a tap on my shoulder. A grocery clerk ushered me to another register. I quickly moved as she opened her register. As soon as I laid my purchases on the conveyer belt, she put up her "Lane Closed" sign. I was out in a flash and headed back to the office on time.
Rewards come in many forms. For me, it was time. Normally an hour for lunch would not be enough to do what I intended. I could have easily ignored the woman. But special treatment in the grocery store kicked me to the head of the line. I was rewarded for helping someone.
What are some ways you can make time for others?
(Photo courtesy of pixabay.)
(For more devotions, visit Christian Devotions.)
---
---