Take delight in the Lord, and he will give you the desires of your heart. Commit your way to the Lord; trust in him and he will do this. Psalm 37: 4-5 NIV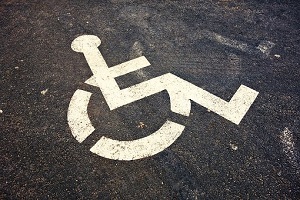 "You don't look like you need to park in that handicapped spot!"
Startled by the man's sharp, abrupt tone, I turned to see where the voice came from. "What did you say?" I asked. He repeated his words, then turned and walked away, shaking his head and saying something to his friend.
I felt hurt and angry. How could he know my handicap? Could he see my constant burning or know weakness in my spine? Why did I need to have his words frame my thinking or attempt to smash the moments of joy I had planned for this little shopping trip?
My day was not his to mess with; it was already given to the Lord the moment I opened my eyes. Later that night, I sat with the Lord as He reset my heart and mind. The Holy Spirit reminded me that my accident was always woven into the purpose He had ordained for my life.
In this painful place, I find more peace as the Holy Spirit enlightens me to God's perspective. My mind told me I was of no use to Jesus anymore. That was a lie the Enemy peddled to my heart. But Jesus is the truth. God gave me His perspective: He is for me, not against me, because I am His child.
God sees our heart and develops it to bring our desires in step with His … to delight in Him. This means desiring what He wants in my life. My life won't be satisfying if I am trying to do it in my own way.
Although I am unable to do what I once did, Jesus has enabled my ears to hear His voice clearer and more often. Obeying His voice has become my joy. He has given me more purpose now than I could have ever imagined. My disability trains me to see my life in His perfect hands. I am able not disabled.
If you're dwelling on past losses, ask God to release you from that captive thinking. Trust Him to bring peace with your disability, loss, fears, or uncertainties.
(Photo courtesy of pixabay.)
(For more devotions, visit Christian Devotions.)
---
---