My sheep hear my voice, and I know them, and they follow me: And I give unto them eternal life; and they shall never perish, neither shall any man pluck them out of my hand. John 10:27-28 KJV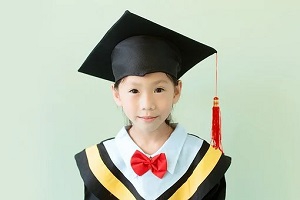 All twenty-two five-year-olds gathered in the classroom.
In cap and gown, the graduates' cuteness was undeniable. We were so elated. We cheered and gave a standing ovation. You would have thought they had won the Superbowl, but this was only a kindergarten promotion ceremony. The teacher calmed us and called the children to find their places. One by one, they filed in and found their seats—smiles, waves, and applause didn't distract them.
Amid the chaos, I noticed a few children who stood still. Frozen and unsure of what step to take, they missed out on the fun. Did the overwhelming sounds drown out the instructions? Did they not want to sit in their seats? For reasons unknown, some children stood there—unable to participate…missing out on the most exciting moment of their little lives.
Just like the children, we too have a choice. When our Teacher calls to us, we can choose to take our seat and participate. The position provides forgiveness, grace, mercy, and an eternal promotion into heaven. Or we can stand still, forever leaving us separated from the love and safekeeping afforded through our faith in Christ.
Have you taken the seat your heavenly Father has offered? If not, accept the gift of eternal life through Jesus Christ.
(Photo courtesy of pixabay.)
(For more devotions, visit Christian Devotions.)
---
---