Why, my soul, are you downcast? Why so disturbed within me? Put your hope in God, for I will yet praise Him, my Savior and my God. Psalm 42:5 NIV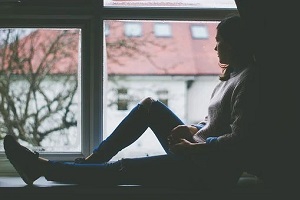 I'd been handling the COVID-19 quarantine pretty well until …
Each day, I tried to accomplish at least one positive action—among them spending time in meditation with my Lord. But one day was different. I got up a little earlier to run a necessary errand (my positive for the day), spoke with a friend on the phone, and took a three-hour nap because I couldn't shake the depression hanging over my shoulders. It was a day unlike any I had experienced in the last month.
The next morning, as I drank my coffee and began my Bible study, I looked at the devotional book date and realized I had not read the previous day's devotion. Deciding I didn't want to miss anything, I read the one I'd missed. The scripture was Psalm 42:5: Why, my soul, are you downcast? Why so disturbed within me? Put your hope in God, for I will yet praise Him, my Savior and my God.
That was it. I had talked with God in the car the previous morning. Or had I talked at God? I had not opened His Word, listened to what He had to say to me, or heeded His advice—His prescription for my ailment. Nor had I placed my hope in Him or praised Him for all the blessings I enjoyed daily.
I determined the present day was going to be a brighter day, even if it was raining outside. I would read His Word, listen to Him, and lift His name in praise. Spending time with my best Friend always picks me up. Hearing His sweet voice reminds me of His infinite love and provision, and lifting His name in praise also lifts my posture and puts life in its proper perspective.
Have you talked with your best Friend today? Listen to Him. He has what you need to hear. Lift His name in praise and feel the warmth of the Son.
(Photo courtesy of pixabay.)
(For more devotions, visit Christian Devotions.)
---
---