Praise the Lord, you his angels, you mighty ones who do his bidding, who obey his word. Psalm 103:20 NIV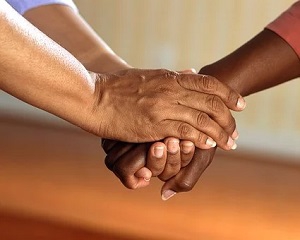 "I can't stand this pain!" I cried, clutching my shoulder and writhing on the bed.
My cry came at eleven at night. My husband gathered our three children and took me to the emergency room where they waited more than an hour before I was released. I suffered from a bursitis attack. A cortisone injection stopped the pain. Although the emergency room physician prescribed medication, I was instructed to see my doctor.
The next morning, I took the medication as directed and headed for the doctor with my three children in tow. By the time I arrived, I was very sick. The dosage of the medication prescribed was for an average-size adult, but I'm only 4'10" and eighty-five pounds. I had overdosed. All I could do was let the medication pass through my body.
As I drove home, I had to stop twice to vomit. Why didn't I ask someone to drive me or care for my children? I thought I could do it myself. The nausea continued after I got home. Although the children played nicely on their own, I knew this was not the way to leave them. I finally telephoned a friend for help. She came over with her daughter, who watched my children. My friend cleaned me up and put me into bed. She then went home, but returned later with dinner for my family. By the time my husband arrived, all was under control. She also checked on me for the next few days and provided dinners for us.
This event made me realize I lived with pride. I had to become utterly helpless before I called for assistance. Had it not been for the children, I probably would have "toughed it out."
The Lord will send angels in the form of people to help in our time of need if we ask.
Don't be too proud to accept help when you need it and when God sends it.
(Photo courtesy of pixabay.)
(For more devotions, visit Christian Devotions.)
---
---