See that you also excel in this grace of giving. 2 Corinthians 8:7 NIV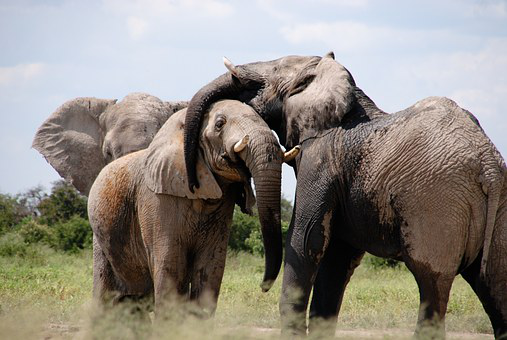 "No matter how old you are, you can still find ways to help."
That insight belonged to eight-year-old Cee Cee Creech, who raised more than $3,400 in pledges for tornado victims in Joplin, Missouri, by knitting twelve hand-size elephants.
When the family first learned of the devastation in Joplin, Cee Cee's father and brother had just returned from a disaster relief trip where they helped flood victims. Cee Cee saw a need and wanted to help as well. "I heard about the tornado, and I just thought those kids would really need something to give them hope." So she begged her mother to help her find a way. She knew her mother made elephants as gifts for church mission trips. Seeing a possibility, she declared, "I could knit elephants to send to the children."
Her mom established the social-networking website, "Elephants Remember Joplin" where anyone could sponsor a single elephant or an entire herd. Contributions trickled in at first, but her initial supporters began spreading the word. Excitement built as Cee Cee and her family learned that Joplin residents were checking her site. They could hardly believe it when a hometown reporter said he first heard her story from someone in New Zealand.
A few people pledged one dollar per elephant. One woman had no money but said she would donate an hour to the Red Cross. A Springfield, Missouri, organization, Little Hands Big Helpers: Empowering Kids to Make a Difference, learned of Cee Cee's story and decided she needed to deliver her elephants personally. They paid for the family's lodging and meals while in Joplin.
The family thought the project would end once they delivered Cee Cee's twelve elephants. But the story of Cee Cee and her elephants continues to unfold. A family friend gave her the catch phrase, "Sometimes a little elephant can make a big difference."
Cee Cee has learned—by her family's example and through personal experience—the grace of giving. The kind the apostle Paul wrote about. The grace that comes to the giver as well as the recipients. Sharing God's love in practical ways has become her way of life.
Anyone of any age can share in that same grace. God can use any talent and any resource to bless others in Jesus' name.
Offer your little bit to God, and allow Him to make a big difference through you.
(Photo courtesy of pixabay.)
(For more devotions, visit Christian Devotions.)
---
---