I will not let thee go, except thou bless me. Genesis 32:26 KJV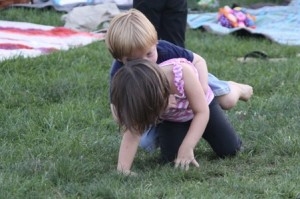 When my children were young, wrestling with Daddy was a favorite pastime. I started it when they were quite little, but as they grew older they would initiate the tussle. Laughing, red-faced, and sweaty little children, intent on besting Daddy.
I held back, of course, using just enough strength to make it interesting. I didn't make it impossible for them; it was winnable, but I made them work for it. When a child was more shy or docile, preferring to withdraw and pout rather than strive for their objective, I pulled them back in, persisting until the child responded, exerted the effort, and achieved their goal. They had a grand time, but it also built character and strengthened determination.
Jacob respected the God of his fathers, but his character was weak and flawed. God came to him at his time of crisis. Alone in the night with Jacob, God took the form of a man and began to wrestle with him. Jacob must have been terrified, but probably soon realized he was wrestling with God, and that the Lord didn't intend to harm him. His fear subsided and his resolve grew. Even when the Lord touched the hollow of Jacob's thigh, giving him a painful and disabling injury, Jacob refused to quit and wrestled on. The Lord said, Let me go, for the day breaketh, but Jacob replied, I will not let thee go, except thou bless me.
Some say Jacob's determination seemed audacious, but God didn't think so. He wanted to bless Jacob, but He waited until Jacob's desire for more of His blessing grew so strong that he felt he could not live without it—that he must have it or die. It was then God changed his name to Israel—"he who prevails with God"— and He blessed him.
When you desire more of God's blessing and power on your life than ever before—and if you are serious—God will grant it. Know there will be a struggle, and it may cost you something. It cost Jacob; for the rest of his life he walked with a limp, a reminder of that night. But God desires for you to have it. He is only waiting for you to decide you'll settle for nothing less in this world than more of Him.
(Photo courtesy of morguefile.com and jade.)
---
---