But as for you, be strong and courageous, for your work will be rewarded. 2 Chronicles 15:7 NLT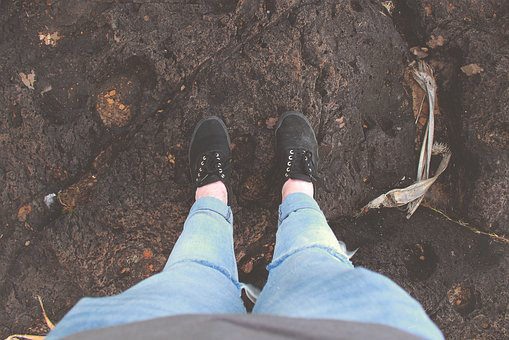 One rainy day as I was walking the path around our land, my boots and feet got wet.
At 34 degrees, walking became a nuisance. The path is usually easy to walk, but when snow or rain falls, it becomes a test of endurance. I had just started my walk, so my options were to return home or keep going—discomfort and all. I had to pep talk myself into continuing. My default action is to always give up.
This path is similar to my life. When things are going well, I walk the journey in faith. When it gets difficult, I want to throw in the towel at the least little accumulations. I sometimes question if I have enough faith to maneuver what comes my way.
I yearn to walk securely with God in the good times and in the distressing times, as Azariah told King Asa to do. So far, I've failed miserably. But I've come to realize some things. It's not failing if I get up and try it again—trusting God to help. God delights in me wanting to be better and to get closer to Him. Hard times are the best way to grow, and I'm never alone. God promises to be with me forever. He doesn't pull back; I do.
When I remember who is with me, I can put my head down and journey ahead. It's still hard and the temptation to say I can't do it is still real. When those thoughts appear, I try to grasp five promises: God will strengthen me, I will reap a harvest of blessings when I persevere, I will be blessed, God promises life if I endure, and God will make my paths straight even if the path is muddy.
Keep walking your life path faithfully—in the midst of the hard and easy times. God's hand extends to you all the way from the beginning to the end.
(Photo courtesy of pixabay.)
(For more devotions, visit Christian Devotions.)
---
---