Since we live by the Spirit, let us keep in step with the Spirit. Galatians 5:25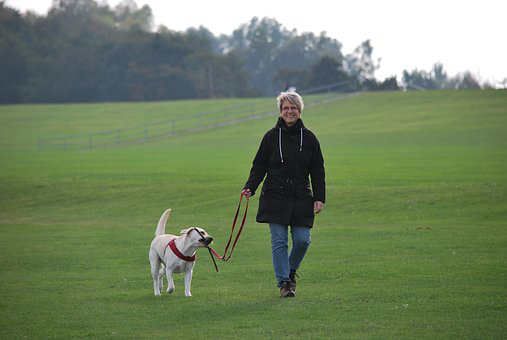 How I wished she just would follow my lead. I only wanted to protect her.
As I walked my dogs, one kept stride, walking calmly beside me. The other strained to walk ahead, pulling frantically all the while. I became frustrated with the one pulling because I wasn't ready to move forward. I also knew what lurked around the corner: a neighbor's menacing dog.
I often do the same in my attempt to walk in step with God. It's a challenge to walk alongside Him, but wise. He sees what's around the bend. I don't. But what happens when I misstep and run headlong into a course of action that leaves me feeling frustrated? When I fail to walk in step with the Spirit?
All Christians have been there at one time. We pray, we wait for what we think is a reasonable amount of time, and then we move forward because we can't wait any longer. We would rather do something than nothing. Something other than wait on God because in our estimation, His answer is too slow in coming.
Paul the apostle exhorts us to walk in step with the Spirit, not run ahead. One of the most difficult Christian disciplines is waiting because it requires patience. And being patient goes against our nature.
Thankfully, God doesn't abandon us when we fail to heed His instruction and run ahead of Him. Quite the opposite. He works for the good of those who love Him and who have been called according to His purpose.
Walking in the Spirit is not something we achieve overnight. It is the consistent yielding of ourselves, our anxieties, and our presumptions to God—who neither slumbers nor sleeps.
Keep in step with the Spirit daily so you won't find yourself frustrated and spent. You will be walking in stride with an all-knowing, all-wise, and all-faithful God.
(Photo courtesy of pixabay.)
(For more devotions, visit Christian Devotions.)
---
---