We rejoice in our sufferings, knowing that suffering produces endurance and endurance produces character, and character produces hope, and hope does not put us to shame, because God's love has been poured into our hearts through the Holy Spirit who has been given to us. Romans 5:3-5 ESV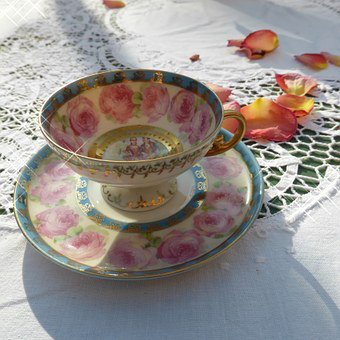 Teacups are like women.
I have a collection of teacups in my dining room that has spilled over into my kitchen and bedrooms. Most of the cups are beautiful, dainty, gold trimmed, and fine porcelain china. But I rarely use them. While I rarely notice the cups, one day they reminded me of women.
I have a friend who posts everything about her perfect life, and I slither to the floor as I recall my not-so-perfect life. This rare teacup sits in all her glory, a beauty to behold. Its worth hasn't been tested by fire, or maybe her flaws are hidden.
Next, there's the hardworking girl whom everyone likes. She's not ashamed of who she is. She's beautiful in her own way, and she's smart and simple. The girl-next-door kind of quality. Her beauty comes because she knows her purpose, like transferware cups. They are sturdy and dependable and have character, if you look closely at their detail. Most people don't take time to look past the simplicity of this cup—or this girl—but she's worth a second look.
The last cup in my collection is beautiful and fragile. She's been through the fire and survived. Chips and cracks on her frame reveal years of use, yet she still has purpose. She was created to hold hot liquid, to be held in the hands of another. Her flowers, though faded, still bear the mark of her creator. If she could talk, she would tell stories of love and loss, of little girl's tea parties and weddings, and of late night worries over sick babies.
There is also One who is faithful to go through the fire with us. I like to think I have come from sturdy stock, but sometimes I'm so fragile the only things holding me together are the flowers imprinted on the cup. During those times, my Savior gently picks up the cup and says, "This one's mine. I'll hold her today."
You may be as fragile as the last cup, but don't give up. You've come through the fire and you have purpose. God wants to add you to His collection. He'll handle you with care.
Let God fill your cup. It will always be full and running over.
(Photo courtesy of pixabay.)
(For more devotions, visit Christian Devotions.)
---
---