God is our refuge and strength, a very present help in trouble. Psalm 46:1 NKJV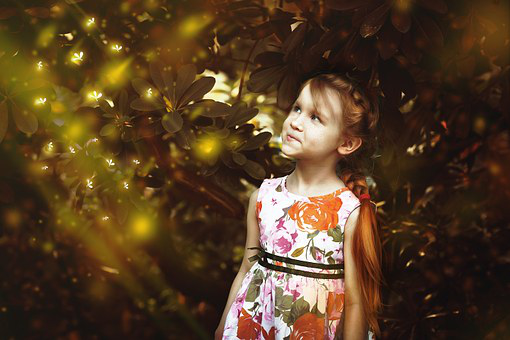 The lime-green intermittent flashes darted in and out of the flowers like moving holiday lights, instantly unearthing a fond childhood memory.
The first time I'd ever seen a firefly was at my grandmother's big house on Orchard Lake in Michigan in the 1960s. Scads of tiny green neon lights twinkled brightly against the darkness as we chased them, our high-pitched giggles providing the background music.
As carefree, breathless children playing in nature, we ran with spongy grass beneath our feet. We imprisoned the fireflies in clear glass jars to gaze in wonderment at their brightness. Every child should enjoy this ritual; it should be a required rite of passage.
Seeing these delightful creatures again after many years while vacationing at Forest Hills Resort in Dahlonega, Georgia, was a holy moment. Not because it was deep or super spiritual, but because it brought me back to a cheerful, happy place in a childhood that wasn't overly delightful. My parents' domestic violence, alcohol abuse, and divorce left scars.
Seeing the fireflies reaffirmed what the psalmist believed. My heavenly Abba was with me every step of my life journey, and He always will be. When God breathes life into something, it becomes a holy moment. He was present at that exact moment in July 2011 when He orchestrated the firefly show. He will always be my very present help in time of trouble, but He will also be my friend and constant companion. And I am His. I am my beloved's and my beloved is mine (Song of Solomon 6:3).
God has fireflies and a myriad of additional treasures planned for you if you will allow Him. Don't wait until a crisis hits to reach out for God. Be on the lookout every day for new spiritual adventures.
(Photo courtesy of pixabay.)
(For more devotions, visit Christian Devotions.)
---
---