The hand of our God is upon all those for good who seek Him, but His power and His wrath are against all those who forsake Him. Ezra 8:23 NKJV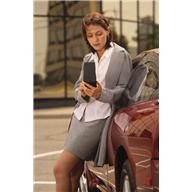 The one-hour car journey turned into one memorable event in an ambulance. It was Mother's Day and we'd looked forward to our family's get together.
My husband and I were hit by a pickup truck that lost it's traction on a snowy highway, spun out of control, slammed into us, and sent us plummeting thirty feet down a mountain. Our vehicle came to an abrupt halt on a dirt road. My pain and labored breathing told me something was wrong.
"You were fortunate," the first responders said. "That telephone pole kept you from rolling over and over. And, so it did. A perfectly placed (providential?) telephone pole shifted our vehicle enough that as we went off the edge, instead of rolling over and over, we traveled nose-down, bouncing over the boulders.
"This would have been a much different story if you had rolled." The firemen freed us from the vehicle. Their reassurance was encouraging, allowing me to try and focus on something other than the pain. Nicole, the lead EMT, started a line in my arm for fluids.
"Why are you placing a second line in my hand." I asked.
"That's just in case."
"Just in case what?"
"Just in case you have a problem."
I've had lots of those just-in-case-moments and didn't recognize them as "self" trying to protect me. It is good to make plans, but not without first having extended times of intimacy with Jesus. We make plans for our financial security, futures for our children, long-term care for elderly parents, and vacations, but we forget to ask God what His plans are or what He would like us to do with our plans. Idolatry takes place ... subtly.
Ezra had the opportunity to accept the king's escort "just in case," but he was ashamed to since he had already declared to the king, "The hand of our God is upon all those for good who seek Him …"
Placing everything before Him in prayer becomes the inner connection with the Holy Spirit. It releases the inner peace that comes from relying on Him. All too often we allow the cares of the world to become our main focus instead of giving them back to God. Do you make plans "just in case," or is your "just in case" Jesus?
(Photo courtesy of office.microsoft.com.)
( For more devotions visit us at www.christiandevotions.us )
---
---