Then Jesus said, "Come to me, all of you who are weary and carry heavy burdens, and I will give you rest." Matthew 11:28 NLT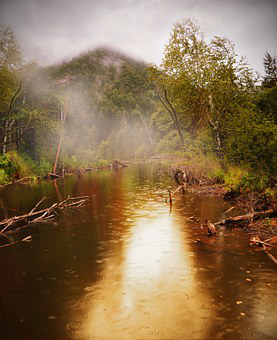 I became lonely as I walked in the La Push rain forest in Washington State.
The stillness of a rain forest, when a person is deep inside, is like a blanket wrapped around the shoulders. Looking up, I saw brown squirrels walking quietly on moss-covered limbs. On the branches, tiny droplets hung and then dropped on my upturned face.
Being alone in a vast forest wrapped in suffocating silence does things to people. They shrink into themselves, feeling afraid and small. Or they grow as they open up to the immensity around them. A bit timidly, I watched a Steller Jay fly from branch to branch above my head. He was at home in the forest—not lonely.
Opening up my heart and mind to the immensity around me, I received a text from Jesus. He said, "Come to Me." It was nice to hear from Him.
Recently, our daughter-in-law came to visit us in Surprise, Arizona, and I remembered my walking in the rain forests of Washington State. She taught me a valuable lesson about the immensity of Almighty God.
As we were having dinner, I mentioned my experience at La Push. Our daughter had chosen to spend her birthday with us. She needed a break from the rain of Seattle. Our son had graciously offered her a break from the kids and weather. She had done the same for him when he wanted to get away from building homes in the rain and fly to Hawaii with a couple of his friends.
At dinner, I mentioned how I had felt so small in the rain forest and how I had started to draw into myself. She replied, "I feel that is a natural reaction. As a C.P.A., when I was in training at the university, I often drew into math when I felt overwhelmed by immensity. I felt I could always find the answer there if I tried hard enough."
She continued, "People are like horses with blinders on to keep them from being frightened and overwhelmed by the immensity of Almighty God." Her statement is powerful and so true.
My daughter is right—as I was in answering the text from Jesus. He was the answer to my loneliness when I was in the rain forest. He will be the answer to any problem you face as well.
When Jesus texts, answer.
(Photo courtesy of pixabay.)
(For more devotions, visit us at Christian Devotions.)
---
---