So I went down to the potter's house, and I saw him working at the wheel. But the pot he was shaping from the clay was marred in his hands; so the potter formed it into another pot, shaping it as seemed best to him. Jeremiah 18:3-4 NIV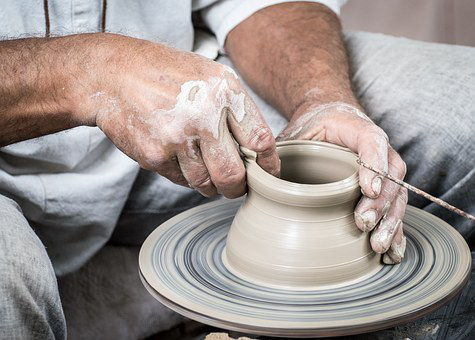 Clay pots can be broken and then mended.
God has broken me over the past three years. He hasn't pulverized me, but I have a deep crack. Even though He has sealed me back together, the crack remains and is obvious to anyone looking for it.
Bipolar depression and marital discord have cracked me in pieces. Although God is repairing me, the cracks remind me God alone sustains me through my mental and marital problems.
Ministry seems to be the reason God has broken me. He wants me to be able to empathize with others who are broken. Transparency is critical when ministering to someone else's brokenness. I can sense a phony immediately. I imagine others can too. I can only be authentic if I am raw and vulnerable in my writing. So I had to be broken.
I'm learning to invite God into my heartbreak. Only He can soothe me. No substance or person can help me. It's spiritually exhausting to struggle against the loss of peace in my life. But God is teaching me to trust that He can give me peace even while the storm rages.
The more transparent we are about our struggles, the better equipped we are to point others to God who comforts the suffering. Let others see what God has done in your life.
(Photo courtesy of pixabay.)
(For more devotions, visit Christian Devotions.)
---
---