I cry out to God Most High, to God who fulfills His purpose for me. Psalms 57:2 ESV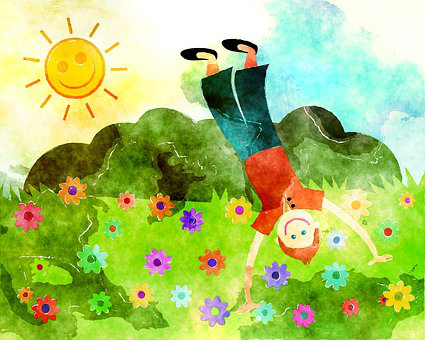 Even at five years old, I knew I'd never be another Monet.
My first attempt at watercolors turned into an exercise in frustration and despair. In my mind, I could see clearly what I wanted to paint, but there was a big difference between what I saw in my head and what came out on paper.
With tears streaming down my face, I tried to get rid of the evidence. But my father walked in as I tried to cram the whole saturated mess into the garbage can.
"Hey, peanut. What are you doing?" he asked as he pulled the sopping paper out and tried to pry it open.
"It's not right. I made a big mess," I said in the eloquence of a child.
"Here, let's have a look." He managed to tenderly separate the sodden edges and splayed the "artwork" on the table, much to my dismay. "This is lovely!" he exclaimed.
I rubbed my eyes, wondering if we were looking at the same thing.
"Look at the beautiful colors and shapes. The graceful swirls and strokes."
He took me in his lap. And through his eyes. I began to see my painting in a different light.
When it dried, he hung it on our refrigerator where it maintained a place of honor for many years. I remember standing and staring at it. At first it always looked like a big mess to me, but I learned to look past my initial reactions and see a luminous swirl of color—or a unique shape hidden in the brush strokes.
I never did become much of an artist, but I learned an important lesson that day through my father's eyes. Things aren't always as they first appear.
As an adult, when I cry out to God and throw my hands up in despair over the messes I've made in my life, my heavenly Father reminds me He isn't finished with me yet. Even though I often fail, His purpose for me will ultimately be accomplished.
When you find yourself in a desperate situation, look beyond the details of your circumstances to see with the Father's eyes. God redeems your messes, brings beauty from ashes, and fulfills His purpose for you.
(Photo courtesy of pixabay.)
(For more devotions, visit Christian Devotions.)
---
---