For as a young man marries a virgin, so your sons will marry you; and as the bridegroom rejoices over the bride, so your God will rejoice over you. Isaiah 62:5 NASB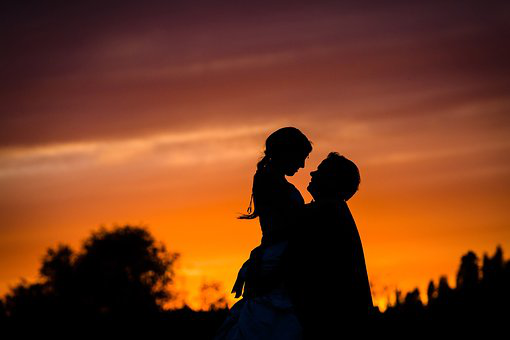 His eyes were the captivating blue pools for which I'd always wished.
Our eyes met across the expanse of the deck while a guitar-picking cowboy strummed songs about mountains and love. Everything about the moment seemed like a romance novel … frozen in time … inviting me in.
A dozen years later, his eyes catch mine across the living room. A six-year-old struggles through her reading lesson on my lap while her two-year-old brother drives plastic cars over my head. They have their father's eyes. And despite the chaos of the moment, I see his smile. My husband still rejoices over me.
This is what it means to be loved. He sticks with me through the blissful romantic seasons of life, and he adores me through the mundane seasons. He rejoices over me as I devote myself to serving others, and he delights in me when I glance in his direction in the midst of my service. I know I'm deeply loved, and I rest in the security of his promise to walk with me through life.
Marriage is a dynamic example of God's fervent love for us. Christ is the bridegroom, and His people are His bride. As my husband rejoices over me—even when I'm covered in sticky handprints and spilled milk—God rejoices in each of us when we commit to walk in a love relationship with Him. He is delighted in the relationship, and we captivate His heart.
God has a joyful heart toward you. He loves you with the tender affection of a devoted spouse. He longs for you to slip away to a quiet place and connect with Him through his Word, through worship, through prayer, and through simply resting in His affection.
Respond to God's tender pursuit today.
(Photo courtesy of pixabay.)
(For more devotions, visit Christian Devotions.)
---
---