And they asked each other, "Who will roll the stone away from the entrance of the tomb?" But when they looked up, they saw that the stone, which was very large, had been rolled away. Mark 6:3-4 NIV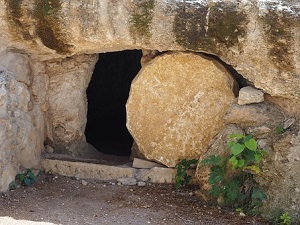 I looked intently at the pictures.
A friend who had visited Israel showed me photos she'd taken of what was thought to be Christ's tomb. The tomb was a cave—carved into a hillside and covered with a massive stone disc which rolled into a groove in the ground to cover the opening.
As Mark says, this was the family tomb of Joseph of Arimathea and probably had several ledges inside to place wrapped bodies. This tomb covering worried Mary Magdalene and her companions. How could they move it since it was so massive and heavy?
When they arrived at the tomb, they found God had already solved their problem. They saw an empty tomb—which was God's purpose all along. That empty tomb gave them confidence and assurance to run with joy to tell the other disciples and to spread the news of the newly risen Savior.
Knowing the tomb was empty means we have an ongoing relationship with a living Savior and that we're not just trying to follow a set of rules from someone who died a long time ago. The empty tomb is an eternal link with a living individual who continues to surround us with His grace-laden guidance and provision. We have a personal connection now and into eternity. Since our Savior lives, our tomorrows are assured.
Let the empty tomb give you confidence for living.
(Photo courtesy of pixabay.)
(For more devotions, visit Christian Devotions.)
---
---