Have I not commanded you? Be strong and courageous. Do not be afraid; do not be discouraged, for the Lord your God will be with you wherever you go. Joshua 1:9 NIV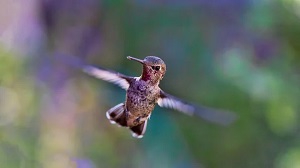 I heard the hummingbird's frantic wings beating and witnessed its panic.
My routine morning quiet time happens just outside my bedroom door. In springtime, I leave the French doors slightly open. The little circular table to the right of the doors is where Jesus and I come together before the day gets going.
One day, chaos broke loose just inside the door. Looking up to the loud vibrating in the corner of the room, I could barely tell what was happening. A hummingbird had found its way through the slightly ajar doors and was terrified. I ran from the room and found my husband. As he mounted the ladder, trying to flush the little creature from the corner, I couldn't help but feel as the hummingbird felt: panicked.
But that wasn't the only time I've felt panic. We are in spiritual warfare daily. We often choose to ignore the Word or Christians who try to help us. Instead, we go with our default mode and spiral out of control. The what-ifs hound us. Our minds are the battlefield in this war.
God tells us not to be afraid or dismayed just as He did Joshua. This is not a suggestion but a command and a reminder that He will deliver us. The Lord allows panic times so we can see our attempts are worthless and then seek Him.
God has given His Spirit to guide His children through life. His promises are as faithful as He is. God's Word tells us many times that He can do more than we can ever ask or imagine. But we must decide to believe His promises and stand on them—regardless of what we see or feel. Jesus is in us, with us, and goes before us. Our job is to follow Him.
If you are panicking as the hummingbird was—and your mind is held captive with thoughts that seem to come from nowhere—take time to restrain your thoughts and sit with the Bible. Wait on God as you pour out your heart to Him.
(Photo courtesy of pixabay.)
(For more devotions, visit Christian Devotions.)
---
---