Everyone did as they saw fit. Judges 21:25 NIV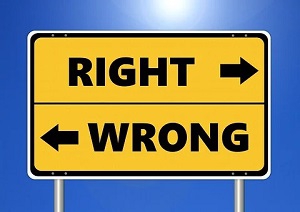 "What I think is right for me and my family is ethical," my employer asserted.
At the time, I was a manager and a buyer for a retail outlet. Sometimes, my employer would ask me to do something dishonest. Since it was against the Word of God, I firmly but politely refused. Each time, the employer asked me why. This gave me an opportunity to speak about God's integrity without accusing my employer of being dishonest.
One day during a staff meeting, my employer brought up the subject of ethics for discussion—although he made it more of a time to mock my stance. I sat silently and allowed the laughter to proceed as we left the gathering.
Later, a fellow employee approached me. She was a struggling believer. She thanked me for standing by the Word of God and, during our break time, allowed me to pray for courage for her to renew her faith in God. She is now back in fellowship with God and growing in her spiritual walk.
The book of Judges records how God appointed three main judges: Deborah, Gideon, and Samson. God hoped the judges would stem the tide of His people's frequent falling away from truth and would also deliver His people from the hands of those who plundered them.
Deborah was also a prophetess and a courageous warrior. During her rule, the Israelites had great victories. Gideon, at God's instruction, destroyed the idols of Baal and also had great victories. Samson, although he had great potential, did not reach that potential because of sin and disobedience.
We can choose to be people of integrity like Deborah and Gideon, or we can choose to compromise as Samson did. Our response may affect others more than we realize.
Make up your mind to be a person of integrity.
(Photo courtesy of pixabay.)
(For more devotions, visit Christian Devotions.)
---
---