He who dwells in the secret place of the Most-High shall abide under the shadow of the Almighty. I will say of the Lord, "He is my refuge and my fortress; My God, in Him I will trust." Psalm 91:1-2 NKJV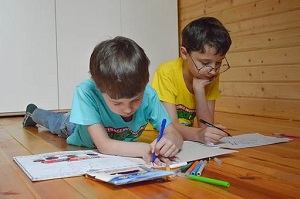 A boy's personal room acts as his secret place.
A time comes in every boy's life when he profits by having his own room. In his personal privacy, he sorts out the things of life. He may have an airplane hanging from the ceiling, a large picture of his favorite sports star, or athletic equipment of his choosing.
If he is fortunate to have a wise father, he may ask him for wisdom concerning some issues of life. Maybe he failed at school or at a sport he tried, and his father can help him deal with it.
His secret place is granted by his parents, yet he determines who enters—maybe a close friend, but surely not his siblings. Even his parents knock on his door, asking for permission to enter. Such a place is a valuable tool for his personal development.
Yet a better secret place exists—a perfect one, the dwelling place of the Most High God. This place never closes. He whose eyes roam throughout the earth, searching for those whose hearts are inclined to Him, invites us into His personal presence. And any person can enter that secret place because of need or simply just to be in God's presence.
Human nature tempts us to resist God's overtures toward us. Our fleshly nature places desires within us to figure life out by human means. Some feel as if God is angry with them. But God wants us to overcome our reluctance and enter a relationship with Him. He wants to know us on an intimate basis because He longs to see us develop successful and joyful lives. We do this by taking time to learn about Him, studying His Word with an open heart, accepting His truths, and letting His love flood our hearts.
Determine to dwell with the Lord consistently. Then you can say, "God is my refuge and fortress. In Him will I trust."
(Photo courtesy of pixabay.)
(For more devotions, visit Christian Devotions.)
---
---