Never will I leave you; never will I forsake you. Hebrews 13:5b NIV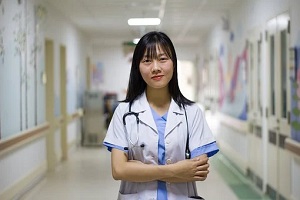 I sat by my husband's side and watched the nurses disconnect the ventilator.
The doctor had asked if I wanted to continue with the ventilator or disconnect it. He explained how the ventilator was the only thing keeping my husband alive. Gene had signed a living will, saying he did not want artificial means to keep him alive. I wished to honor his request.
Within ten minutes of removing the ventilator, a nurse checked for Gene's pulse and respiration. He was gone. Shortly afterwards, a hospital employee came into the room and gave her condolences. I explained that as a Christian, God had always met my needs, and I knew He would continue to do so.
A noticeable silence enveloped the room as the woman stood before me. Then, with tears in her eyes and sorrow in her voice, she said. "I am a Christian also and a single mother of three young children. I am going through some hard times, and I've been struggling."
I assured her God was with her and could be trusted to bring her through whatever she faced at the present time or in the future. I also shared that the Lord doesn't always take away our trials and heartaches, but that He promises to walk with us through the deepest and darkest valleys. Such periods teach us to let God guide us, as well as help us trust His faithfulness more fully.
The young mother thanked me for sharing and for giving her the encouragement to believe God would provide for her needs if she allowed Him to do so.
If you are a Christian going through a trial and anxiety threatens to overwhelm you, God has promised you are never alone. Perhaps you have never asked Jesus Christ to forgive your sins and to come into your life as your Lord and Savior. What better time than the present to make that decision?
(Photo courtesy of pixabay.)
(For more devotions, visit Christian Devotions.)
---
---