A friend loves at all times, and a brother is born for a time of adversity. Proverbs 17:17 NIV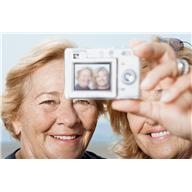 "Can we talk?" my friend asked.
"Sure."
She dabbed at her eyes and with a quivering voice, apologized for being such a disappointment to me. "I haven't been faithful at Bible study or food pantry and feel terrible. I've let you down."
I looked deep into her serious eyes and burst into laughter. Now it was my turn to apologize. Perhaps this wasn't the sensitive response she sought, but it was the appropriate one. We were longtime friends. I understood her limitations and never placed unfair burdens on her.

"Have I said you let me down? Satan is accusing you, not me."
She was so surprised by this response, it left her no choice but to listen. Sometimes that's a good place to be. As iron sharpens iron, a friend can gently refocus us on truth. Illness caused her to miss commitments originally, but guilt caused her to build up walls. She assumed others were frustrated with her when, in truth, her absence stirred concern, not condemnation. Her thought-life was her enemy.

Insecurities surface and guilt takes hold when we place too much importance on what we can't do rather than what we can. The mind becomes Satan's stomping ground: accusing, beating down, reminding, mocking. Our words can be salve to an aching spirit or salt poured right into an open wound.

Scripture reminds us to be sober and of good judgment because Satan stalks us like a wild animal seeking prey. God knows our hearts and He knows how Satan comes after us, so when we see our friends struggle from needless guilt, it's time to step up and help release them from the attack. After all, this is what He has done for us.
Relationships are essential to Jesus. He took the time to stop, listen, and restore. As imitators of Christ, we're called to do the same.
Are you building relationships?
(Photo courtesy of office.microsoft.com.)
( For more devotions visit us at www.christiandevotions.us )
---
---