They entice unsteady souls. 2 Peter 2:14b ESV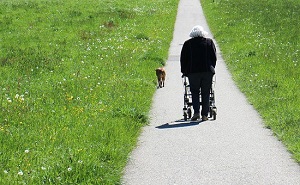 My left arm felt as if I had slept on it the wrong way.
Within three hours, numbness had overtaken my whole arm, both legs, and lower torso. I couldn't walk on my own and had trouble going to the bathroom. I thought I was having a stroke.
After eight days and multiple tests in the hospital, the diagnosis came back: transverse myelitis (TM). TM occurs when a virus attacks the spine and the body launches an auto-immune attack against the virus, as well as the myelin sheath around the spinal nerves. Symptoms vary depending on where the attack hits the spine.
Months of physical therapy and prayer ensued. I progressed from a wheelchair to a walker to a cane and finally to a wobbly gait on my own. Balance issues are my major remaining symptom, particularly on stairs, inclines, or uneven ground. Sometimes, someone will offer an arm or hand, which helps to a degree. But what helps most is something solid and unmovable.
When I saw the word unsteady in 2 Peter 2, I immediately identified with the type of soul Peter was talking about—one that could easily stumble and fall without support. Throughout this letter, Peter warns about false teachers, saying they use greed, lust, rebellion, and blasphemy to entice "unsteady souls."
Guarding against the enticement of false teachers and remaining steady in our faith entails holding on to God's solid, unchangeable truth. We read and obey it. We get to know the God who spoke it. We listen to and read sound teaching that lines up with the Bible.
If you are a little wobbly spiritually or feel the need of something firm and steady to guide your steps, then God has provided His Word to keep you steady as you walk with Him. Steady your soul on God's Word daily.
(Photo courtesy of pixabay.)
(For more devotions, visit Christian Devotions.)
---
---