I AM the Light of the World. Whoever follows me will never walk in the darkness, but will have the light of life. John 8:12 NIV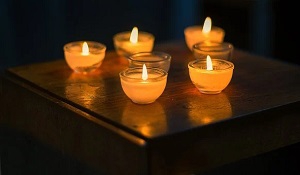 Her idea was great.
My friend Laura wanted to host a neighborhood social and have a craft project for her neighbors. I volunteered to teach candle making since I had the supplies. All we lacked was heat to melt the wax and power to plug in the glue gun.
The day arrived and we were excited—until I received an early morning call from Laura. "We have no power."
Storms had affected the power lines in Laura's area. We decided to proceed anyway, hoping for a quick repair. Thankfully, her stove was gas, but with no power, we had to work in the dark.
I commented, "This is a good lesson for why we need candles—to shine light in the darkness."
As I looked at the candles around the room, I witnessed a soft glow of light in a dark place. To see what we were doing, we had to get near the light.
As believers, we must be that glowing light of Christ wherever we go. We have the promise from Jesus that we will never walk in darkness, but will have the light of life. We may have to enter dark places in our schools, places of employment, communities, governments, or even family events, but our light will shine in those places. We can be that light because Jesus is our power source.
Extending love and kindness to those around us, no matter where we are, lets Jesus shine life-giving light into the lives of others.
If you are in a dark time, know there is light for you. His name is Jesus—the Light of the world—and He will light your path.
(Photo courtesy of pixabay.)
(For more devotions, visit Christian Devotions.)
---
---