There the angel of the Lord appeared to him in flames of fire from within a bush. Moses saw that though the bush was on fire it did not burn up. Exodus 3:2 NIV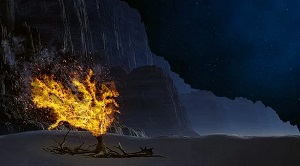 "Lord, do you even see what I'm going through?" I asked.
I remember the day I was making peanut butter and jelly sandwiches for my boys' school lunches—a typical morning chore. As I slathered peanut butter on one slice of bread and jelly on the other, I called out to God about something weighing on my heart.
As I turned to put the sandwich into the lunch box, I noticed a plaque on the wall that read, Be still and know that I am God. I had seen the plaque every day for months, but this time the words burned into my soul. I knew God was there. That's the day God showed me the reality of burning-bush moments.
In the hustle and bustle of life, I take for granted the burning-bush moments God uses to get my attention. Just as I went about my morning routine, making sandwiches for my boys, Moses was going about his daily business of tending sheep. One day, however, God offered him a burning-bush moment.
Burning bushes were common to shepherds tending sheep in the middle of the desert. But what caught Moses' attention was that the fire did not consume the bush. Moses couldn't keep walking without taking notice of this common yet uncommon sight.
God used something in Moses' everyday life to get his attention. God also uses common things to get our attention. Loading the dishwasher, folding laundry, or making lunch. He doesn't have to use grand gestures for us to encounter Him.
I love burning-bush moments because they provide the opportunity to see God in the mundane. And like Moses, God waits for us to respond with "Here I am." He wants us to stop what we're doing and see His great sight.
Don't let the significance of the routine things pass you by. Take time to turn aside so that you can see God in the mundane. He will speak to you in your circumstances and provide burning-bush moments that will change your life.
(Photo courtesy of pixabay.)
(For more devotions, visit Christian Devotions.)
---
---