Command those who are rich in this present world not to be arrogant nor to put their hope in wealth, which is so uncertain, but to put their hope in God, who richly provides us with everything for our enjoyment. 1 Timothy 6:17 NIV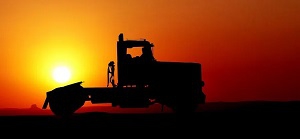 Wow! What a deal, we thought.
Joni and I planned our next concert. We needed to transport ten eight-foot choral risers, music stands, sound equipment, and stage décor. But we always ran short of transport resources.
"Let's pray for a big 27 x 8 foot truck with a hydraulic lift!" Joni cried in desperation.
So, we agreed in prayer, "Lord, we need a 27 x 8 foot truck with a hydraulic lift. Please meet our need. Thank you. Amen."
At the next rehearsal, we announced our search for a truck with a hydraulic lift to transport our production equipment.
"I don't have a truck, but I have a Class C license. I can drive anytime," Craig offered.
"I have a truck in our company's boneyard. After we bought new ones, we didn't know what to do with the old ones. With a little tune-up and a new battery, it will run. We'll donate it," Mark offered.
"My son is a mechanic who is also looking for the same type of truck for his Boy Scout troop to use on weekends. (We only needed the truck four times a year.) We could park it at his gas station," volunteered Pat.
Just as we thought we had to say, "Thanks, but no thanks," because of the high cost of insurance, the Boy Scout leader proposed that if the Boy Scouts of America accepted the truck as a donation, they could give the company a 501(c3) tax deduction. Then, as owners, the Boy Scouts would carry the insurance and allow us to use the truck as needed.
The company unloaded a truck useless to them in exchange for a tax donation. We got the free use of a truck and a driver four weekends a year, and the Boy Scouts got their truck for weekly projects.
We shortchange ourselves when we are not specific in our prayers. We can see the answer more clearly when we know what we are looking for. God can answer many prayers at once, so everyone wins.
Never forget that God is your Provider.
(Photo courtesy of pixabay.)
(For more devotions, visit Christian Devotions.)
---
---