"Honor your father and mother"—which is the first commandment with a promise. Ephesians 6:2 NIV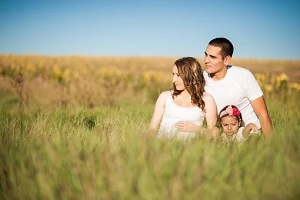 I had a wonderful dad.
I was fortunate to have a very loving father, though when I was a child, he wasn't always Mr. Jolly. I never questioned that he loved me. He tucked me in at night, sometimes lying beside me telling me silly stories, and he was always interested in my imaginary adventures.
He worked hard at the papermill repairing trucks and machinery. If something went down, Dad was on a timeframe to fix it. After all, time was money to the paper mill. Mom was the one who took me places, did things with me, and helped me experience the world, and Dad wasn't present.
When my brother was a child, Dad was very active in the church, but then one day, without explanation, he walked away, never darkening the doors except to walk me down the aisle. Despite our family efforts to bring him back, it was an adamant no. Despite Dad's long absence, we never browbeat his attendance. We prayed and loved him deeply.
In 1984, Dad's only brother passed away. My parents drove to Orlando for the funeral. I don't know what happened in that seventy-two hours they were gone, but when Dad walked in the door, he was a different man. A few Sundays later, he surprised us when he walked into the church service and sat down. He never left the church again.
Paul reminded the people of the importance of family and the value in respect. Honor your parents. Love your children. Cherish your spouse. He wanted the people to know the strength in the hierarchy of family and just how important it would be as their families grew.
Dad was a good man and a loving husband and father. Was he perfect? Nope, but whatever reason drove him from the church, something of equal importance brought him home. We never questioned that. We only rejoiced in his return.
Hundreds of people came to his funeral. Person after person told us sweet details about things Dad did for them that none of us were aware of. He prayed for folks, took them doughnuts, and visited them at their work weekly. The local McDonalds Dad frequented, CLOSED for his funeral. All this to say, he was honored. The lost child God loved so patiently many years prior, found his way home.
Honor your father. Love him, even if it is hard, and your Father in heaven will reward your efforts.
(Photo courtesy of pixabay.)
(For more devotions, visit Christian Devotions.)
---
---