That all of them may be one, Father, just as you are in me and I am in you. May they also be in us so that the world may believe that you have sent me. John 17:21 NIV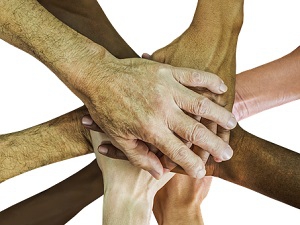 When I was five years old, I began private piano lessons.
I had a pretty good ear and loved music, so my teacher encouraged me to enter piano competitions. When I turned seven or eight, I started competing for trophies and prize money. During every lesson, my teacher would talk about how one of her other students had excelled and won many trophies. Her comments encouraged me to try harder and also created a longing for her to praise me in the same way she did her other students. The day came when I was her number one student of the year. Soon after, I quit taking lessons, but I never stopped looking for and needing praise.
Our life in the Lord is different. It is not a competition, as we understand that word in this world. God does not compare our walk with anyone else's—although we may do that with each other. This kind of thinking tends to separate and divide rather than unify.
God invites us to be one in the Lord with fellow believers (echad in the Hebrew or heis in the Greek). He wants us to be joined to each other in similar fashion as the Father, Son, and Holy Spirit are.
Our ultimate witness to the world is that we, who are broken and disconnected by sin, can be brought to a wholeness which allows us to join with each other—even love one another—because of the life of Jesus in us and the Father in Him. This is impossible except for the work of the Holy Spirit in each heart. He heals and woos each one to come into a living alignment with the prayer Jesus made.
God can assist us in letting go of our need to win, sometimes at any cost. He can help us surrender our hearts to His love. In this way, we will know His love more fully and be better able to love others as He has loved us.
Ask God to help you join together in unity with other believers.
(Photo courtesy of pixabay.)
(For more devotions, visit Christian Devotions.)
---
---