Who comforts us in all our troubles, so that we can comfort those in any trouble with the comfort we ourselves have received from God. 2 Corinthians 1:4 NIV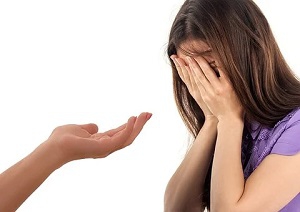 A sadness like nothing I'd ever known surged through my empty soul, like drifting on an open sea with no oars. Lost. Alone. Broken.
Recently divorced after a twenty-two-year marriage, feeling sad and unloved was an understatement. I held onto the self-pity to bide me through my long empty days. Yes, I had faith. I went through the motions of church, praying, and reading my Bible. But I withdrew inside myself and licked my wounds. Doing so kept me feeling alive … somehow. And yet the isolation consumed me, pulling me deeper into the abyss of heartache.
How do women do this? How do they go on? Where was God's peace in this horrific storm? Had He forgotten me?
During one of my closet floor breakdowns, I heard a knock. The sighting of visitors was rare at my place, as sporadic as spotting a yellow Cardinal. I flushed my face with water and went to the door. A male friend kindly asked that I visit his wife who was grieving over her mother's death. I agreed and shut the door, instantly awed at the wonder of how God pulled me off the floor and into service in one quick moment.
As 2 Corinthians outlines, Christ called me out of myself to comfort another. He let me know I was His and that He saw me. Through knowing this, I was comforted and now equipped to assist another wounded soul.
I spent the rest of the afternoon loving this dear sister. God watched over her ... and me. In that moment, through our visit, I knew God loved me more than I could ever know. God forced me to reach beyond myself to begin again.
During those moments when we feel lost and alone, God can use us to comfort others. And when we do, we heal in the process.
Ask God to give you opportunities to console others as He has comforted you.
(Photo courtesy of pixabay.)
(For more devotions, visit Christian Devotions.)
---
---