I know Nabal is a wicked and ill-tempered man; please don't pay any attention to him. He is a fool, just as his name suggests. 1 Samuel 25:25 NLT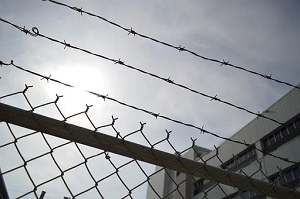 Looking through the glass partition in the prison, I had an epiphany.
When I was a public-school teacher, I had a teacher friend who had experienced a moral failure, got fired, and was charged with a crime. While visiting him in jail—talking over a phone and looking through a window—I realized that but for the grace of God I could be where he was. Not for his particular sin necessarily, but for many others. I had been foolish and ignorant in many ways, yet forgiven by God.
As his name suggests, Nabal was a fool. He was an evil and ill-tempered man who had only one thing going for him: a gracious wife named Abigail. Nabal had returned evil for good to David. David left with his men to teach Nabal a lesson, but Abigail sprang into action and put together gracious gifts of food for David before her husband could carry out his plan.
Abigail showed respect for David and took responsibility for her husband's wrong actions by interceding for her scoundrel husband. She then gave David a reason to be gracious by suggesting that Nabal was ignorant, rather than just evil.
Our sin always carries some deception. If we understood the consequences, we would not sin. On the cross, Jesus said, "Father, forgive them, for they don't know what they are doing." He understood the evil in His enemies' hearts, yet He chose to dwell on their ignorance rather than their intentional actions.
Mercy always triumphs over judgment. Often there is a thin line between willful and ignorant behavior. Grace is sometimes better shown when we choose to look at people's behavior as ignorant rather than intentional.
Abigail was the heroine in this story, and Nabal was the villain. David withheld the sword from Nabal, leaving the vengeance to God, who later took care of Nabal. Fools often tempt us to act in foolish ways. Grace intervened in David's life. When looking upon sinners like Nabal, we should remind ourselves that but for God's grace, there go we.
Ask God to help you show others the same grace He has shown you.
(Photo courtesy of pixabay.)
(For more devotions, visit Christian Devotions.)
---
---