I am the light of the world. Whoever follows me will never walk in darkness, but will have the light of life. John 8:12b NIV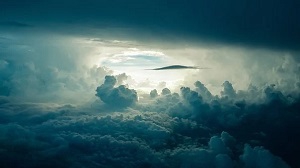 Lightning flashed, wind roared, and thunder crashed.
Suddenly, the lights began to flicker, and then it was dark. All of the appliances ceased running, and the house became quiet. Feeling your way around in the darkness, your fingers closed around a flashlight. Switching it on, you discovered it didn't shine. The batteries were dead. You were able to find a candle, but not a match to light it. The darkness remained.
Pastor Mike knows about life's darkness. His daughter had gone skiing with two friends. They enjoyed the thrill of flying down the slopes on their skis when suddenly an avalanche hit. The three were buried under snow, and, like candles, their lives were snuffed out.
As Pastor Mike talked with me in my husband's hospital room, he shared that his daughter had died only three weeks before. Yet he was volunteering in the chaplain's office, doing what he could to alleviate the pain in other's lives and bring the light of Jesus into their world.
Sometimes our lives are as black as a storm. We grope our way in the shadows because the light in our lives seems to have faded away. But just as film is developed in a dark room, our faith is developed in the darkness of heartaches and problems. God's light shines at all times, but we often experience it more fully when our world is enveloped in darkness.
Preparing for storms in the physical world by making sure flashlight batteries and matches for candles are available and in the right location is important. Even more important is being in touch with the Lord so He can guide us through every spiritual, physical, and emotional darkness we encounter.
Allow Jesus Christ to be your light to shine in any darkness you face.
(Photo courtesy of pixabay.)
(For more devotions, visit Christian Devotions.)
---
---