For by the grace given me I say to every one of you: Do not think of yourself more highly than you ought, but rather think of yourself with sober judgment, in accordance with the faith God has distributed to each of you. Romans 12:3 NIV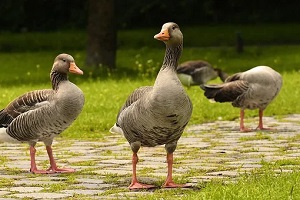 Of all the animals my family had, the ones I liked the least were geese.
As a teenager, I lived on a small farm. Every day, I had pigs to slop, cows to milk, chickens to feed…and geese to tolerate. What bothered me most about geese was that they acted as if they were better than anyone else. Even when I brought them food, they stuck out their necks and hissed at me. But if I took a few steps toward them, they turned and ran as fast as their webbed feet could carry them.
No matter how much the geese hissed or flapped, they never could convince anyone of their importance. One of my favorite things was to shoot bottle rockets near them on the fourth of July and laugh at their hissing and honking.
Before I feel too smug about the geese's foolishness, I must remember the times when I have acted like them. God has seen me put on a great show of self-importance for my family, neighbors, and church. But when faced with real danger, I have also run away.
How amazing that God still loves me and doesn't treat me the way I treated our poor geese. Instead, He gently corrects me and tells me to remember that my importance isn't about being better than others. He loves us all equally and gives each of us a different job to do.
So, don't act like silly geese. God has made you special, but no better than anyone else on the farm.
(Photo courtesy of pixabay.)
(For more devotions, visit Christian Devotions.)
---
---