Beloved, since God loved us so much, we also ought to love one another. 1 John 4:11 NRSV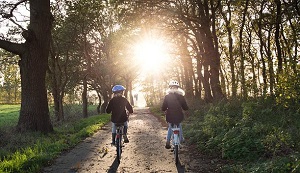 "Sisters! My little sister is always following me."
While taking a walk, I noticed a ten-year-old boy riding his bicycle. He shook his head and mumbled words about his little sister. Perhaps he stated his feelings to get rid of the grouchiness he felt toward the girl trying to follow him. Although he tried to get away as fast as the bike would move, his little sister ran along behind him, trying to catch up.
"Wait, wait for me!" she yelled.
He didn't wait. He left. She plopped down on the sidewalk. No tears. Looking down at the ground, she fiddled with a stick and tried to direct a row of ants toward the grass.
"Hi, how are you?" I asked. I wanted to tell her everything would be okay. Big brother would come back. But I truly didn't know what would happen.
The cute little brown-haired girl looked up and said, "I wanted to go with my brother. He doesn't want me to go."
My heart broke. "I'm sorry. Hope he will come back soon."
As I pondered what to say next, I heard a sound coming around the corner. Bicycle tires screeched on the walkway as her brother put on the brakes.
"All right, come on. Get your bike."
Big brother had returned. Tears formed as I watched the siblings smile at each other. The girl jumped up quickly and ran to the garage. She brought out a bike adorned with pink streamers and a white basket on the front. She followed her big brother who peddled slowly so she could keep up with him.
I don't know what happened the rest of the day, but for those moments in time, a big brother came back and gave his little sister the chance to join him.
Sometimes, we feel left out. Or sad when we're not included in activities with friends or family. But God never leaves us. He is with us always. Even when we stray, He searches for us and leads us back to Him.
Take comfort in knowing God will never leave you.
(Photo courtesy of pixabay.)
(For more devotions, visit Christian Devotions.)
---
---