Let your light so shine before men, that they may see your good works, and glorify your Father which is in heaven. Matthew 5:16 KJV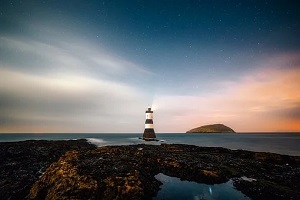 "A lighthouse doesn't have to fire a cannon to be seen."
That statement can be applied to people as well. There are two kinds: those who like to sound off about all they do and those who let their deeds speak for themselves. And most of us know which type of person we would rather spend time with.
Jesus didn't say for us to tell people about our good works. He commanded that we do them openly for all to see so others could glorify our God. Doing that leaves no room for personal pride, which the Bible says goes before destruction.
The Lord doesn't even require that we accomplish great works, only that we work. Some will always find fault with what we do—perhaps because they don't understand our actions or our motives.
Such as the example of the woman who used her ointment to anoint Jesus, much to the chagrin of those around her. The onlookers felt her work was a waste of time and money. The oil could have been sold and the poor helped. But Jesus told them to leave her alone. She had done a good work. The poor would always be around—not Him.
The woman never said a word, but quietly and unashamedly went about her business. She wasn't interested in anyone's opinion or judgment except the Lord's. Her acts demonstrate it's far better to let our light shine than to loudly trumpet what we're doing.
Choose to be a lighthouse rather than a cannon.
(Photo courtesy of pixabay.)
(For more devotions, visit Christian Devotions.)
---
---