Yet I hold this against you: You have forsaken the love you had at first. Revelation 2:4 NIV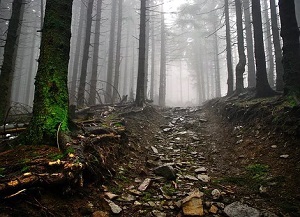 As my husband and I celebrated our wedding anniversary (our tenth honeymoon), we discovered a wonderful little place in Canada called Peggy's Cove—a tiny fishing village with a picturesque lighthouse.
We wandered around the land on the rocky Atlantic coast and saw an old white church with a brilliant red roof and steeple cap, sitting in the middle of nowhere. I took a photo of the beautiful landmark, but noticed later a street sign juxtaposed in front of the picture with the street name, Rocky Road.
Our journey with God often takes us through rough terrain—and not necessarily by His design. As I traveled biblically through the desert with the Hebrews in Exodus, I wondered how they could be so stubborn and rebellious. And as I snarked about the stiff-necked Israelites, I saw the three fingers pointing at my own ungrateful heart.
God has a plan. He's laid out the path. He's promised to go before us, and He's promised never to leave or forsake us. How is it that when we have everything we need for the journey on the right path, we often choose the rocky road?
God gives us a choice. My personal journey through the wilderness has not been unlike the Israelites back in the day. I've been just as stiff-necked and rebellious. I hate to admit it, but I often find myself on rocky roads.
My fervent prayer was that I would once again feel the hunger for my first love. That Jesus would restore a right spirit in me so I could again let Him lead where He wanted—without me whining and seeking something better. He is the something better, and He's right in front of me, calling out through His Word.
Daily praying through the Bible lights our way, and God goes before us like a road grader—flattening the surface so we don't stumble.
If you find yourself on a rocky road, turn back to your first love, repent, and allow God to pave the way before you.
(Photo courtesy of pixabay.)
(For more devotions, visit Christian Devotions.)
---
---