A little one shall become a thousand, and a small one a strong nation, I, the Lord, will hasten it in its time. Isaiah 60:22 NASB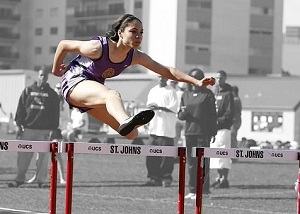 The long-legged child with a stumpy, almost pudgy body dreamed of being a hurdler.
She lay in bed at night and imagined jumping over each hurdle with one swift fling into the air. She also envisioned pumping as she ran hard and free to the next hurdle.

As the years passed and the young girl grew into a tall, lanky but awkward teenager, the dream of becoming a hurdler faded into oblivion when it became clear she was not athletic.
Fast forward several decades. With another birthday in only a few days, the woman pondered over the life hurdle she had just surmounted—thanking God for another victory and another fruitful ending to a challenging situation.
Suddenly, a childhood memory flashed into her aging brain. She remembered her young childhood daydream and realized the Holy Spirit was cheering her on through a life race one hurdle after another. She was fulfilling her dream.
Never lose sight of a God-given dream or goal. God will make it happen in His time and in His way.
(Photo courtesy of pixabay.)
(For more devotions, visit Christian Devotions.)
---
---