Then said Mary unto the angel, "How shall this be, seeing I know not a man?" Luke 1: 34 KJV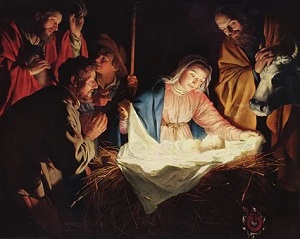 From Mary's earthly perspective, her question appeared reasonable.
Gabriel, the angel God sent to Mary, gave her God's message. Mary's first reply to the angel was one sentence. It's no wonder Mary would have had a question for the angel who gave her such an impossible message. And with her question, she went straight to the heart of the matter.
Many times, looking into the face of the impossible, we question God in circumstances where we feel out of control. I wonder if God ever becomes amused at us when we talk to Him from our human frailty? We want to be in control of our daily comings and goings.
But God knows the beginning and the ending of our lives. He has a plan for us, and we're foolish to try to develop a Plan B. Plan B will bring us trouble and heartache if it is not in the will of God.
God had a plan for bringing His Son to earth. He favored Mary and chose her to give birth to Jesus. Gabriel further explained God's planned miracle to Mary and concluded by telling her, "For with God nothing shall be impossible."
When we believe God's Word, we will celebrate the miracle of Christmas with reverence. We will rejoice in awe over the birth of God's Son—a beautiful miraculous Christmas package sent to earth by our heavenly Father.
Take the opportunity this Christmas season to believe God's Word. Celebrate the miracle of Christmas: the birth of Jesus.
(Photo courtesy of pixabay.)
(For more devotions, visit Christian Devotions.)
---
---