Don't you know that the runners in a stadium all race, but only one receives the prize? Run in such a way to win the prize. 1 Corinthians 9:24 CSB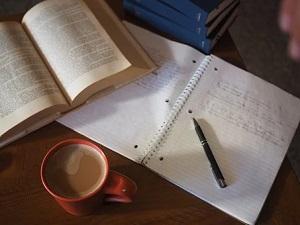 I received the phone call prior to my senior year in college.
I had avoided college algebra like the plague. Now, here I was with no other option. The first couple of weeks were bearable as I sat in the back of the room. At the end of every lecture, my professor assigned optional homework. She never took a grade and didn't ask to see it. Ever. This baffled me. Why would a teacher assign optional homework? Even stranger, she assigned the problems that had the answers listed in the back of the book.
Week three came around, and I was lost. I decided to go to the tutor lab and try some of the professor's optional homework. I still did not understand, even after checking my answers with the ones in the back of the book. I decided to try something new.
During the next class, I moved to the front of the room. When my professor asked if anyone had questions, I slowly slid my hand up. She explained the concept in a way that finally made sense. I followed her, took notes, and did not get lost. For the first time in my life, I chose to ask questions and do optional homework after every class. I finally succeeded at math.
Showing up every day and taking notes didn't make me successful. Going the extra mile, putting in those hours of practice, humbling myself, and adjusting my attitude did.
Paul compared the Christian life to that of an athlete. For our lives to honor Jesus, we must go the extra mile and do the optional homework. Doing so requires hours of practice, humility, and an attitude change. The work may challenge us and make us feel uncomfortable. We may need help. And we will definitely need to rely on Christ and our Christian friends. But doing the optional homework is always better in the end.
Do the optional homework that will help you grow into Christlikeness—no matter how hard it may seem.
(Photo courtesy of pixabay.)
(For more devotions, visit Christian Devotions.)
---
---