The Lord is my strength and my shield; my heart trusts in him, and he helps me. Psalm 28:7 NIV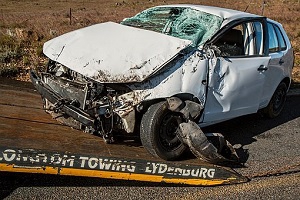 While touring Cambodia in 2007, I was in an auto accident.
My husband and I were on a remote narrow-lane dirt road when the driver—driving too fast—lost control of the SUV. We rolled over twice and landed in a dry rice field. My husband and I suffered vertebrae injuries, our son walked away, the fourth passenger suffered cuts and bruises, and the driver fled the scene. The people who were in the car behind us pulled us out through the sunroof.
Two men who attended us were doctors. I believe they were God's provision. One of them had almost cancelled the trip, but his wife had urged him to go without her. He was formerly a Peace Corps volunteer who practiced emergency aid in primitive conditions.
The nearest hospital was a two-hour ride, which I made in the back seat of a car, wearing a ripped T-shirt and lying on a makeshift back brace made of sticks. While spending eleven painful days in the Thailand hospital, I could have moaned, "Why did this happen to me?" or "Praise the Lord, I got into an accident!" I did neither.
Instead, I said, "I can't wait to see how You are going to get me out of this pickle." I stood on my faith, knowing God would pull me through. I was in the best hospital in Southeast Asia.
For the first time, I had purchased travel insurance because I wanted the cancellation option. That insurance paid all the medical costs, including the airlift to Thailand and business class air back to the United States.
The Thai doctor advised, "Lie on your back as much as possible for the next one hundred days, and then you will be fine." I did, and he was right.
In times of sudden events, when we don't know what is going to happen, we can stand on our faith, knowing God goes before us, beside us, and behind us.
Praise God without worry. Stand on your faith. You can expect miracles when you obey God.
(Photo courtesy of pixabay.)
(For more devotions, visit Christian Devotions.)
---
---