In the same way, let your light shine before others, so that they may see your good works and give glory to your Father in heaven. Matthew 5:16 CSB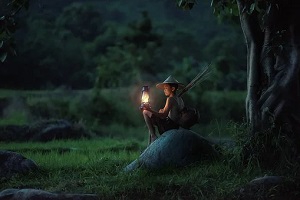 I sat beside my husband, anxiously waiting to see how his body would tolerate the medicine infusion at the cancer center.
Sadness looms in a cancer center. Life and death hang in the balance, and hope can be hard to find. As the nerves and tears got the best of me, an older gentleman decked in a bright, red three-piece suit, complete with hat and feather, bounded in. He knew all the nurses by name and lit up the room with joy as he moved from station to station giving happy greetings, hugs, and handshakes. Suddenly, the air lightened up, and smiles spread across every face. Things didn't seem so heavy or dark anymore.

The sad parts of life get heavy sometimes. We encounter hard days and tough moments—times like that first cancer treatment—when it's hard to find joy. Some days, we simply struggle to put one foot in front of the other.
I am grateful for a God who loves us enough to know when to send those light bringers our way. Just like He sent me and others that man in the red suit who waltzed in and left a trail of joy. Light bringers come in the form of friends, family, strangers, children, and pets. They always show up on time, dancing a sparkling little jig and bringing Jesus' joy right into the door of our souls.

We live in a dark world filled with pain and heartache, and we need the joy of light bringers. I'm so grateful for the ones who have come my way recently. We don't always have to wait on the light. Sometimes, we need to be the light taker. One text. One call. One prayer. One encouraging word. They all can make a difference.
So, put on that bright red suit and waltz right into someone's life with joy and light this week. Be the light of Jesus the world so desperately needs.
(Photo courtesy of pixabay.)
(For more devotions, visit Christian Devotions.)
---
---