Three times a day he got down on his knees and prayed, giving thanks to his God, just as he had done before. Daniel 6:10 NIV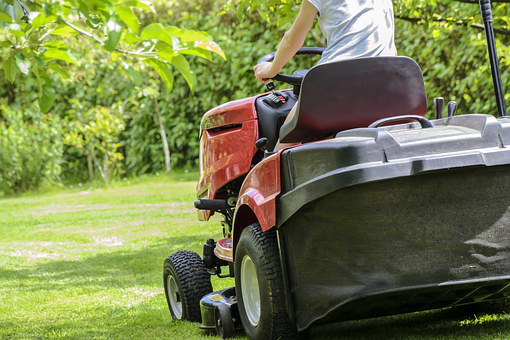 I giggled as I visualized what motorists saw as they passed my parents' house.
I sat atop my parents' riding lawn mower while my dad tried his best to direct me in the "way I should go." His arm motions went one way, my steering the other. I looked like a new pilot trying to park a jet. After many stops to ask Dad for directions, I finally finished. Dad and I both smiled. It was an adventurous afternoon to say the least.
What popped into my mind while pondering my mowing escapade was the word routine. Routines are a daily part of our lives whether we realize it or not. My dad, after years of mowing his lawn, had his routine down pat. He'd learned how to mow in the shortest amount of time and maximize the best use of fuel. He'd tightened the turns, cut the gaps, and knew where he wanted to go next.
Daniel had a routine for praying. I also have routines. One is my morning quiet time with God. I read from two or three devotionals (usually in the same order), and then I go to my reading plan on my phone. Finally, I turn the computer on and read a couple of online devotions. If I'm participating in a Bible study, that lesson comes at the end.
Yet while doing my routine reading about God and Jesus, I must be careful my mind doesn't flip to autopilot. There are many mornings my thoughts wander aimlessly and need a little coaxing to get back on track. Re-engaging my thoughts usually means re-reading the last couple of paragraphs. If I can't refocus my direction, then my routine has become a hindrance.
Changing up the order of my morning study routine helps, but I still must be cautious of falling back into complacency and becoming comfortable with the routine.
When challenged with routine complacency, ask God to help you stay focused and engaged with Him during your study time. This will keep your routine from becoming a hindrance.
(Photo courtesy of pixabay.)
(For more devotions, visit Christian Devotions.)
---
---