Therefore, if anyone is in Christ, he is a new creation; old things have passed away; behold, all things have become new. 2 Corinthians 5:17 NKJV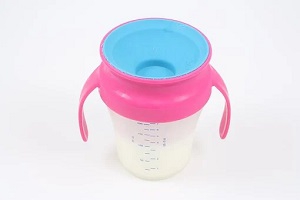 "Just throw it away," my daughter said after I discovered my grandson's sippy cup of milk in one of his buckets.
Theo hadn't been to our house for a few days, so that cup had plenty of time to create a science project. You can imagine what was inside. I considered my daughter's suggestion and was tempted to throw the cup away and pull out another one. But then I thought, This is a good cup. It just happened to be the victim of negligence. I had raised four kids, so this was not a first for me.
Before opening the cup, I held my head far away so I wouldn't smell the aroma it was sure to bring. With hot water running and tools in hand, I tackled the mess.
As I worked, I thought of how that cup symbolized life and how we often get lost in the chaos. We become stuck in our own little bucket, ignoring or forgetting about our problems—problems that have no option but to sit and sour.
For those who have dealt with sippy cups, we know all the holes and spaces in which liquids can seep. Likewise, our lives have holes and spaces, and, if allowed, our mess will seep into each one.
I once had a pretty big mess inside me. Feeling alone and rejected, I came to a point where Christ was my only hope. As I reached up to Him, He pulled me out of my bucket and washed me clean. He can do the same for everyone who asks. No matter how difficult a mess we create, God will never toss us away. He will go to the dirtiest and most difficult places to make us clean.
If you're in a mess, reach out to Christ. The blood of Jesus will make you clean.
(Photo courtesy of pixabay.)
(For more devotions, visit Christian Devotions.)
---
---