And He said to them, "Follow me and I will make you fishers of men." Matthew 4:19 NIV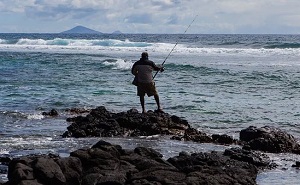 When I fished years ago, my target was to know which fish to aim for and to use the correct bait to lure the catch. I joined in the fun of fishing for freshwater trout by baiting the hook with salt-water mussels. "Delicious," said the trout, as I reeled them in. I had used the right bait.
When calling two of His disciples, Simon Peter and Andrew, to follow Him, Jesus said He would make them fishers of souls. They immediately left their nets and followed Jesus.
As I aim to live the Christian life, God commands me to set an example. This spreads my faith in Jesus Christ. I pray to become a better Christian while caring for a geriatric.
I also need to understand the qualities and nature of the people for whom I fish. I must show them the light of the gospel. God knows which fish are His and which fish I should target. If I pray and seek His wisdom and guidance, He will send me on deep soul-fishing jaunts. When I lead by example, with tolerance and patience, I use the right bait.
I get such guidance in the quiet stillness before dawn as I meditate on Jesus' healing hands and try to see the world through spiritual eyes. All my gifts should magnify Him. I turn to my Bible, remain still, and know He is God.
Our Christian message contains the love and life of Jesus. Trust your heart to Him, and seek His wishes as you fish for souls.
(Photo courtesy of pixabay.)
(For more devotions, visit Christian Devotions.)
---
---